Advantages
Class ISO 3 workspace for optimum protection of the product.
Optimum ergonomic design with large opening and good working height.
Control panel with digital keyboard and LCD screen.
Glass side panels for user comfort.
Compliant with NF EN 14644-1.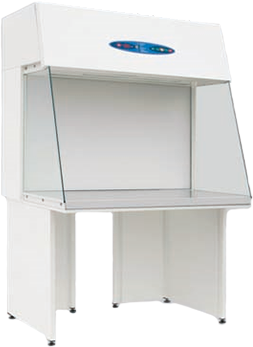 Principle
The OS-N TechGen provides a Class ISO 3 workspace for perfect sample protection.
Air is drawn in from above through a pre-filter which limits clogging of the main filter. It is then blown horizontally into the workspace through an HI14 HEPA filter situated at the rear of the workspace.
The HEPA filter is fitted with a laminar flow diffuser in order to optimise homogeneous airflow velocity within the workspace.
Construction
Epoxy painted sheet metal exterior.
Stainless steel work surface with rounded edges.
Safety-glass side panels.
Electronically controlled fan.
HI14 HEPA filters (efficiency > 99.995% MPPS as per EN 1822).
Dimensions
Model
Effective
dimensions (cm)
Overall
dimensions (cm)
L
P
H
L
P

*

H
*Unit delivered in four parts to pass through 76cm doorways (work surface, side panels, motor and filters, support stand) and assembled on-site by our staff.
OS-N 3
89
60
74
95
92
120
OS-N 4
119
60
74
125
92
120
OS-N 5
149
60
74
156
92
120
OS-N 6
180
60
74
186
92
120
Secure standby mode.
1 IP44 electric socket.
Pre-drilled holes in side panels.
(3 per side)
Lighting in excess of 1000 lux.
Filter test inlet.
To test the integrity of HEPA filters.
Stainless steel work surface.
Self-regulation.
Self-regulation automatically regulates the speed, the microprocessor-controlled fan compensates for filter clogging.
This option also includes:
Operating parameter display: speeds, airflow, residual lifetime of filters, etc.
Audio and visual alarms: abnormal speed, fan or sensor malfunction, HEPA filter clogging, power failure, etc.
Fluids:
tap (gas, vacuum, water, N2 on request)
additional socket
RJ45, USB, RS 232 ports
Hanging bar.
To hang bags.
Trespa work surface.
Antivibration platform.
Accurate to 0.1 mg.
Volt-free contact.
For on/off relay.
Shutter curtain.
UV lamp with timer and alarm with shutter curtain.
Armrest.
Support stands:
Epoxy painted steel.
Stainless steel.
With casters.
Electrically adjustable.