Advantages
High-adsorption filters.
Control panel with digital keyboard and LCD screen.
Ergonomic design with safety-glass front sash tiltable on hinges.
Glass side panels for user comfort.
Compliant with NF X 15211, BS 7258-1 and EN 61010-1.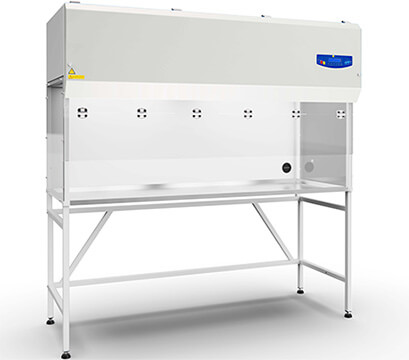 Principle
The CoalSafe TechGen is a hood fitted with an active carbon filter that protects the operator and the environment from fumes and toxic gases.
Air is drawn into the workspace via the front aperture then filtered in the upper part through a prefilter, then an active carbon filter.
Construction
Epoxy painted sheet metal exterior.
Acid- and alkali-resistant resin spill tray.
PVC rear panel.
Safety-glass side panels and front sash.
Dimensions
Model
Effective
dimensions (cm)
Overall
dimensions (cm)
L
P
H
L
P

*

H
CoalSafe 06
53
60
66
60
76
112
CoalSafe 09
82
60
66
89
76
112
CoalSafe 12
111
60
66
119
76
112
CoalSafe 15
144
60
66
150
76
112
Full range of carbon and hepa filters
Our specialists are on hand to advise you on suitable filters according to the products used and the conditions of use (frequency of replacement, duration of handling, etc.).
The types of carbon proposed are adapted to the type of products handled and offer high retention capacities for the following products:
| Type of filter | Applications |
| --- | --- |
| AC | Organic fumes |
| SULF | Acid fumes |
| CYAN | Hydrocyanic acid |
| MER | Mercury |
| FOR | Formaldehyde |
| AM | Ammonia |
| ACR | Radioactive iodine |
| HEPA | Toxic particles and powders |
Secure standby mode.
Rear-panel cable entry inlet.
Fluorescent lighting > 1000 lux.
Acid- and alkali-resistant composite work surface.
Self-regulation.
Self-regulation automatically regulates the speed, the microprocessor-controlled fan compensates for filter clogging.
This option also includes:
Operating parameter display: speeds, airflow, residual lifetime of filters, etc.
Audio and visual alarms: abnormal speed, fan or sensor malfunction, HEPA filter clogging, power failure, etc.
Fluids :
tap (gas, vacuum, water, N2 on request)
additional socket
RJ45, USB, RS 232 ports
Hanging bar.
To hang bags.
Antivibration platform.
Accurate to 0.1 mg.
Volt-free contact.
For on/off relay.
Additional exhaust filter box without connection
active carbon filter
HEPA filter
Additional exhaust filter with hood connected to the exterior
active carbon filter
HEPA filter
Support stands:
Epoxy painted steel.
Stainless steel.
With casters.
Electrically adjustable.