Advantages
The lowest noise level on the market: <47bDA.
The best lighting, using LEDs and a dimmer.
The lowest energy consumption.
The lowest CO2 emissions.
The longest-lasting HEPA filters.
Optimum protection at all times through microprocessor-controlled real-time automatic speed regulation.
Audio and visual alarms with error messages for security.
Optimum ergonomic design with electrically operated sliding sloped sash and glass side panels.
Easy maintenance from the front.
Compliant with NF EN 12469:2000.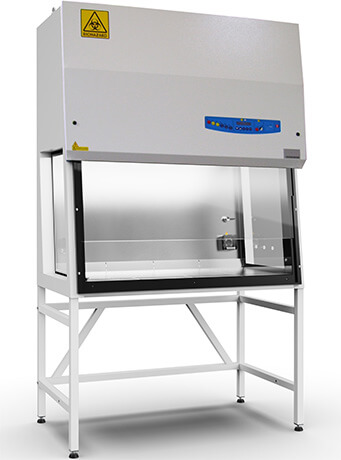 Principle
The SCS TechGen has two self-regulating fans to ensure a constant recycled air / extracted air ratio and two H14 HEPA filters (one for air circulation in the workspace, the other for extraction to the exterior).
70% of air is recycled through the main filter and 30% is exhausted through the extraction filter.
The filtration system maintains a protective barrier at a minimum velocity of 0.4 m/s and a Class ISO 3 workspace as per NF ISO 44201.
Construction
Epoxy painted sheet metal exterior.
Stainless steel workspace.
Stainless steel work surface.
Spill tray.
Electrically operated sliding and tilting front sash for easy cleaning.
Safety-glass side panels.
2 fans with automatic speed control.
2 H14 HEPA filters (efficiency > 99.995% MPPS).
Dimensions
Model
Effective
dimensions (cm)
Overall
dimensions (cm)
L
P
H
L
P

*

H
*Reducible to 78,5 cm to pass through doorways.
SCS 2-3 evo
89
58
74
105
86
150
SCS 2-4 evo
120
58
74
135
86
150
SCS 2-5 evo
150
58
74
166
86
150
SCS 2-6 evo
180
58
74
196
86
150
The scs-evo techgen is microprocessor-controlled
Control panel with digital keyboard and 2-line, 20 character LCD screen.
Operating parameter display:
Speeds, airflow, residual lifetime of filters, etc.
Audio and visual alarms:
Abnormal speed, fan or sensor malfunction, HEPA filter clogging, sash position, etc.
Secure standby mode.

1 IP44 electric socket.
Pre-drilled holes in side panels.
(3 per side)
LED lighting with dimmer (150 to 1400 lux).
Protection grill.
To prevent fan failure.
Filter test inlet.
To ensure the integrity of HEPA filters.
Autoclavable work surface.
Solid or perforated, segmented or one-piece, at the user's choice at no additional cost.
Fluids:
tap (gas, vacuum, water, N2 on request)
additional socket
RJ45, USB, RS 232 ports
Hanging bar.
To hang bags.
Antivibration platform.
Accurate to 0.1 mg.
Additional exhaust filter (two-fan version).
active carbon filter
HEPA filter
Connection kit.
Volt-free contact.
For on/off relay.
UV lamp with timer and alarm.
Movable, mounted on a magnetic base on the rear panel.
Armrest.
Support stands:
Epoxy painted steel.
Stainless steel.
With casters.
Electrically adjustable.